Is ABM the answer to working smarter in the age of reduced marketing budgets and higher expectations? [B2B Global ABM Conference Takeaways]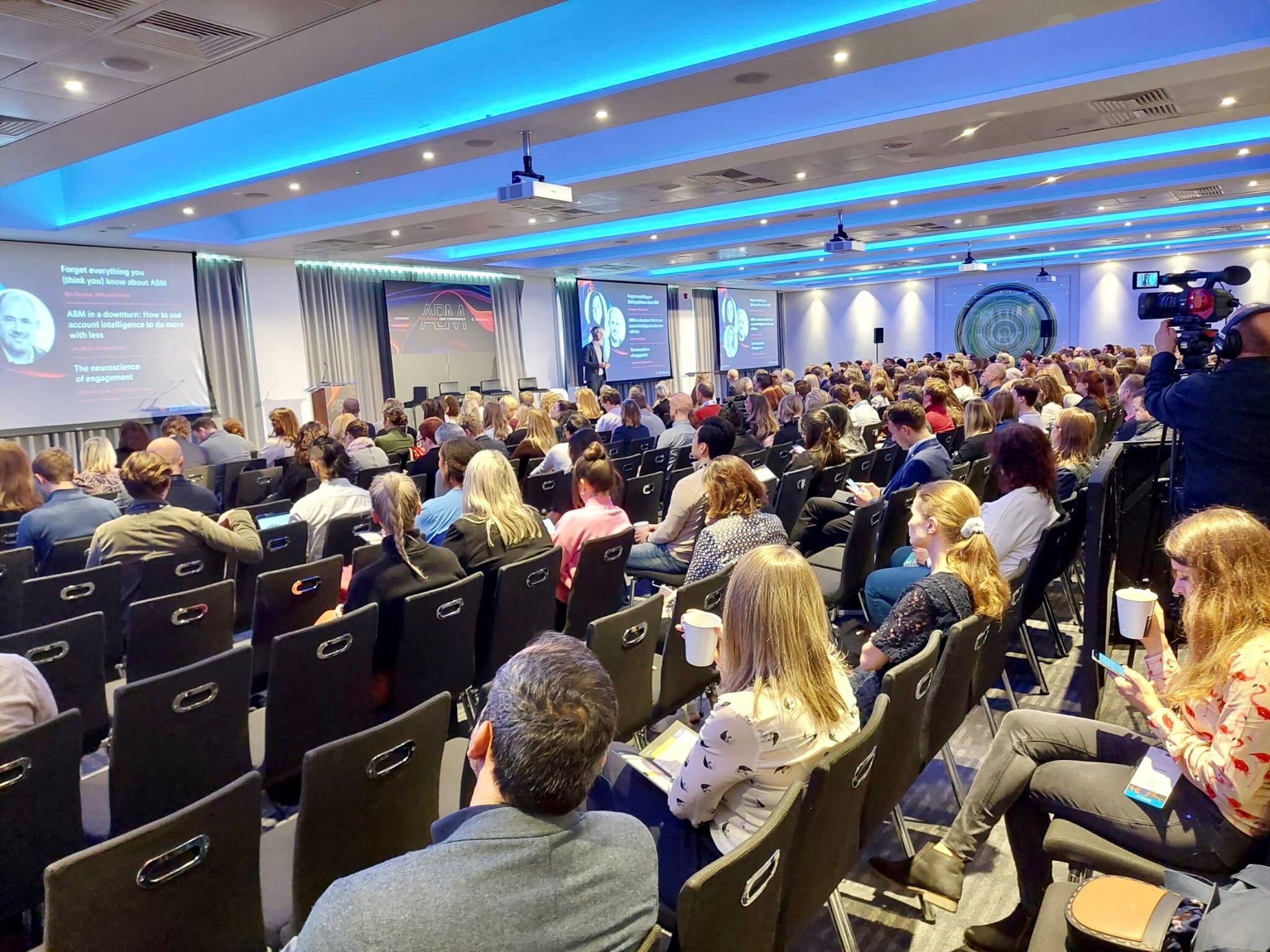 Key takeaways from this weeks B2B Global ABM Conference
This week saw the 6th Annual Global ABM conference hosted in London, and here are my notes if you didn't manage to attend in person or online.
TLDR: If you want to jump to my quick summary and actions – View Key Takeaways
The day kicked off with an invite-only Breakfast Briefing – Lifting the lid on ABM talent – hosted by Jarmila Yu, and featuring Andrew Fitzgerald, head of ABM, Kyndryl; and Bev Burgess, author, and founder and managing principal, Inflexion Group.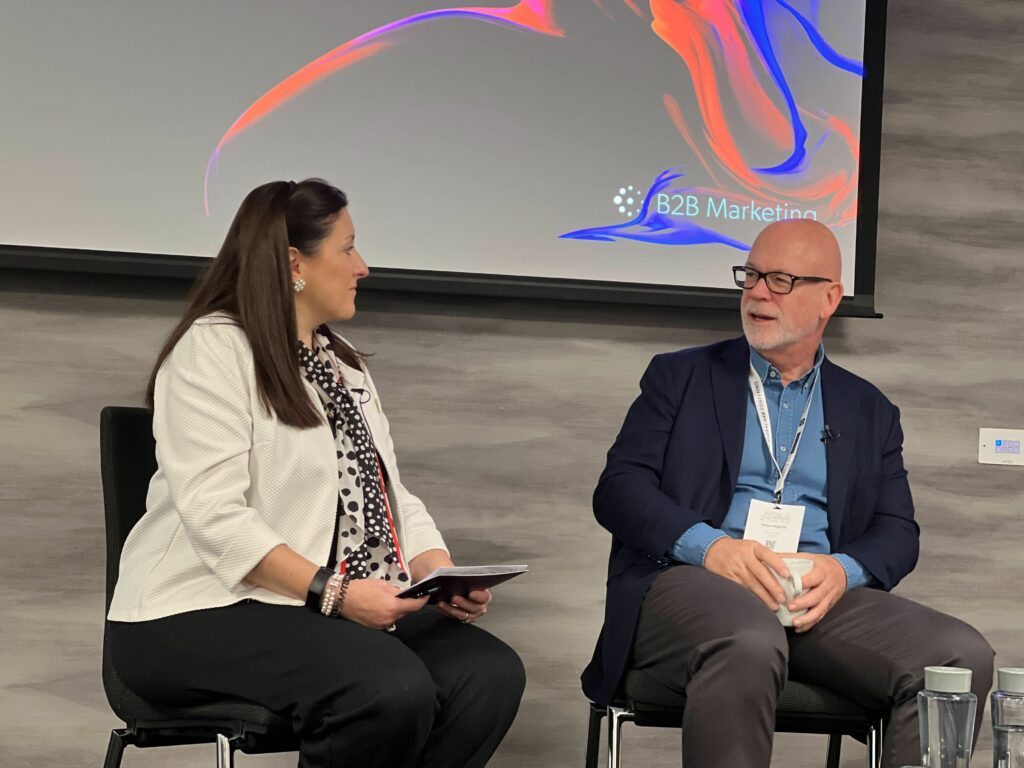 Don't Forget the People Element to ABM. And what is an ABM'er anyway?
There are plenty of shiny tools in the space, but we cannot ignore the people element. People are critical, but what are the skills needed, and where do you find them? And what is an ABM'er anyway.
Well, the panel this morning believes the war on talent will be fierce. Bev who has been in ABM for 20 years (and is practically the godmother of ABM and literally wrote the book) says that the need is increasing, but hiring and keeping talent is an issue. Kyndryl for sure has made a big bet on ABM, led by Andrew. And as a 1 year old start-up, they are learning quickly what a good ABM'er looks like (excusing Andrew saying a good IBM'er as a small slip and a nod to his previous life before the spin-off).
The big question seems to be do you hire or develop? And how do we find a good ABM'er? Well, the answer may be lurking in Sales and not in Marketing. It's proven that ABM practitioners do need to understand sales and customer languages, but also need to understand the marketing toolbox. So maybe a salesperson that knows the marketing, or is willing to learn it.
Is it easier to teach a good salesperson marketing skills, or to teach a good marketeer sales skills? Discuss!
Andrew clearly supports this view, as he recounts his best ABM'er is an ex-sales lead.
Setting aside the required marketing skill, you need business awareness and the ability to influence a senior leadership team. They need to be well networked across the organisation and be able to bring the elements together so they can be successful for the client. Andrew said their CMO has a phase – "A leader in every seat" – and that applies very strongly to ABM. The role needs strength and gravitas.
Following the question "Isn't this just demand gen?" Bev said very clearly that ABM isnt just Demand generation – it's not whack-a-mole where we use intent data to spot a lead and hammer each one. ABM is about working out which customers you want to work with, driving reputation, and building relationships through them. Andrew also said that for him ABM is exclusively about growing existing business, not hunting new logos.
And when you consider that the average value increase in contracts when ABM is deployed with existing business is 170% it's clear to see why. That doesn't mean that other brands won't use ABM for new business, and certainly, a lot of interest at the event is about new business and maybe a more "one-to-many" approach to ABM.
Full disclosure: both Jarmila and Andrew were clients before they left IBM, so it was also great to catch up in person – and the event was rocking, so it's a real testament to the B2B Marketing team, especially Joel Harrison, the editor in chief and it did show the appetite for ABM in the market today.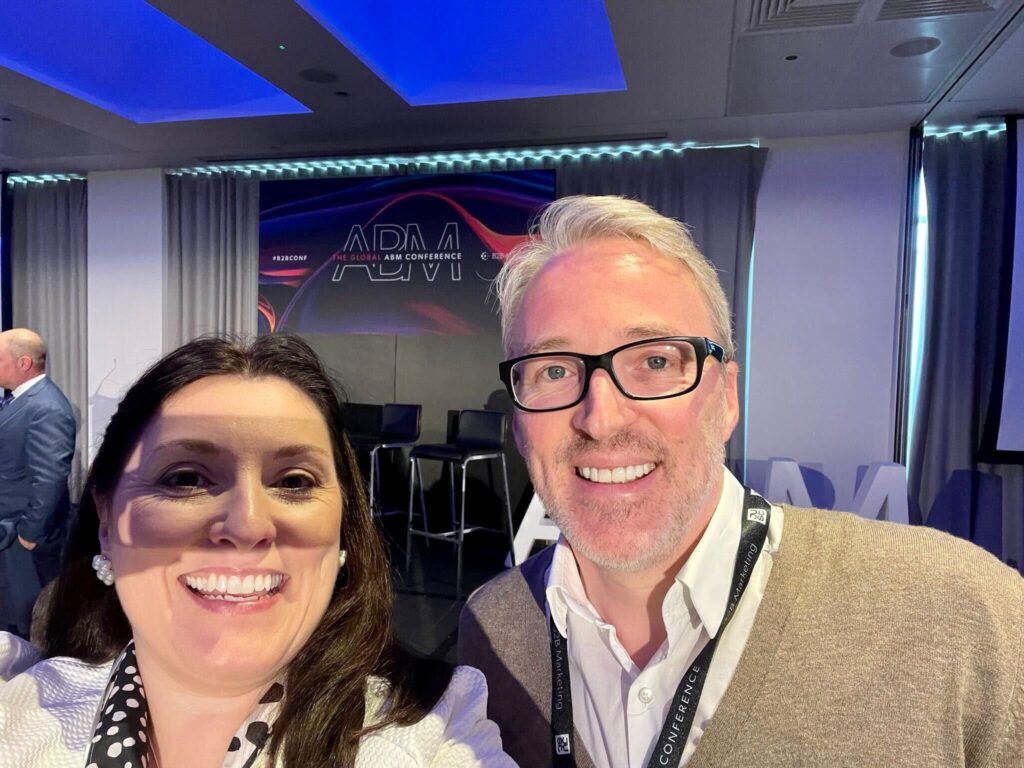 The first keynote was Forget everything you (think you) know about ABM  from the previously mentioned Bev Burgess.
Bev really wanted to go on a myth-busting session, to set expectations for the day, and she speaks with a weight that has everyone's attention.
From the birth, where Accenture led the charge in the early days, defining ABM as "Treating individuals accounts as markets in their own right" – to today's super convoluted – is it "One to one", "One to many", "One to few", "client-centric", ABX, ABE, and many other terms have been invented to make us feel smart and special (which maybe some of us are) , it's clear this is a misalignment or misperception as to what ABM is and isn't.
So to some myth-busting from the lady that wrote the book on ABM (and just published a new one)
It's not all about new business (if any)
It's not driven by demand gen
It's not the same as personalised marketing
It's not a gifting platform to send swag to a customer
It's not all about marketing technology
You don't need to scale it
Vilfredo Pareto, who invented the aptly named Pareto principle (you see what he did there?) when he noticed that 80% of his peas in his garden were coming from just 20% of the plants, has taught us that 80% of the wealth is owned by 20% of the people, and its very likely that 80% of your revenue comes from 20% of your client base. So is ABM a useful strategy to focus budget and resourcing in the right place?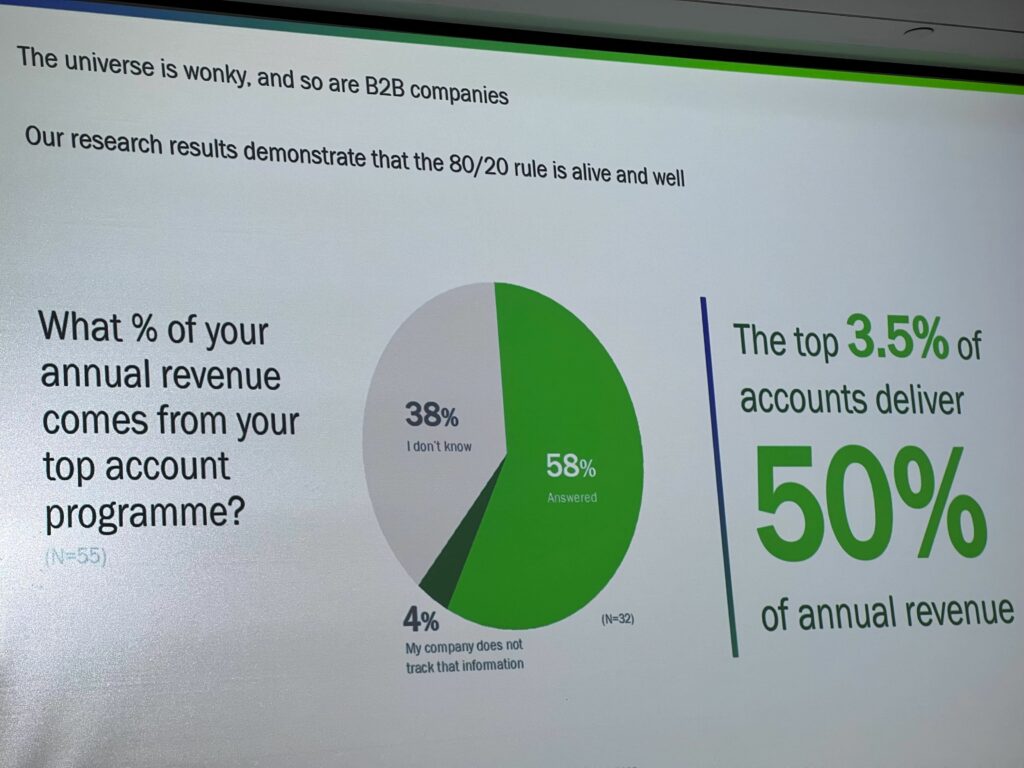 So the 80/20 rule as applied in a £1bn company with 1,000 companies looks like this (remember that Pareto is a fractal – so it divides down):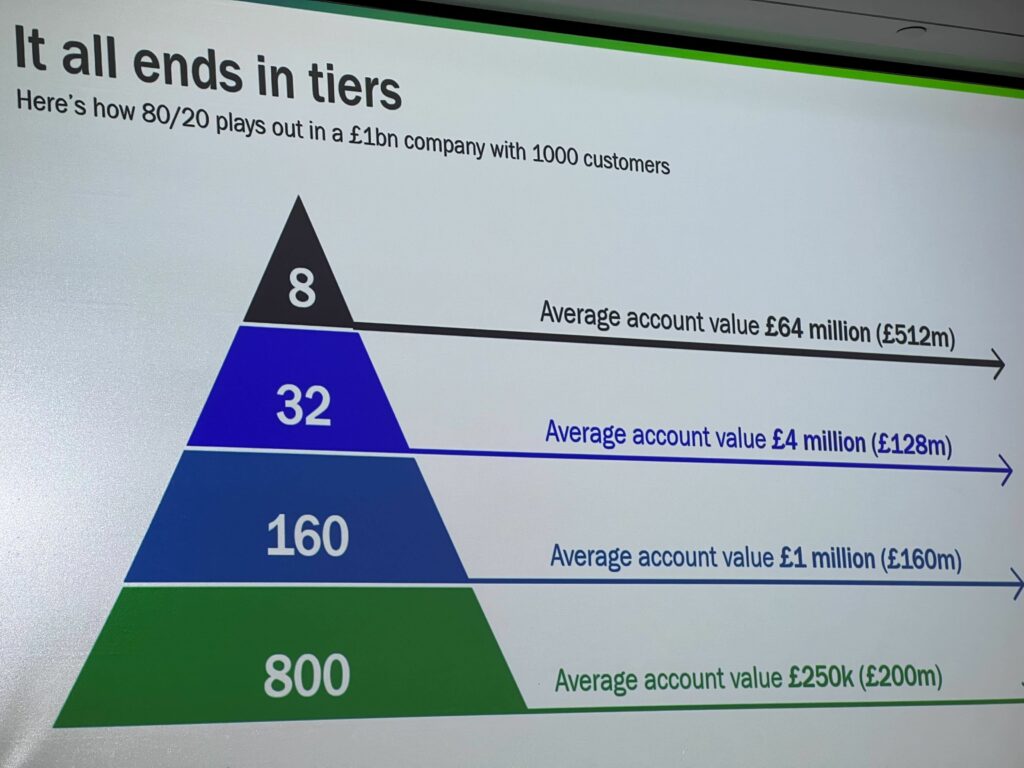 And taking this approach can help you plan resources.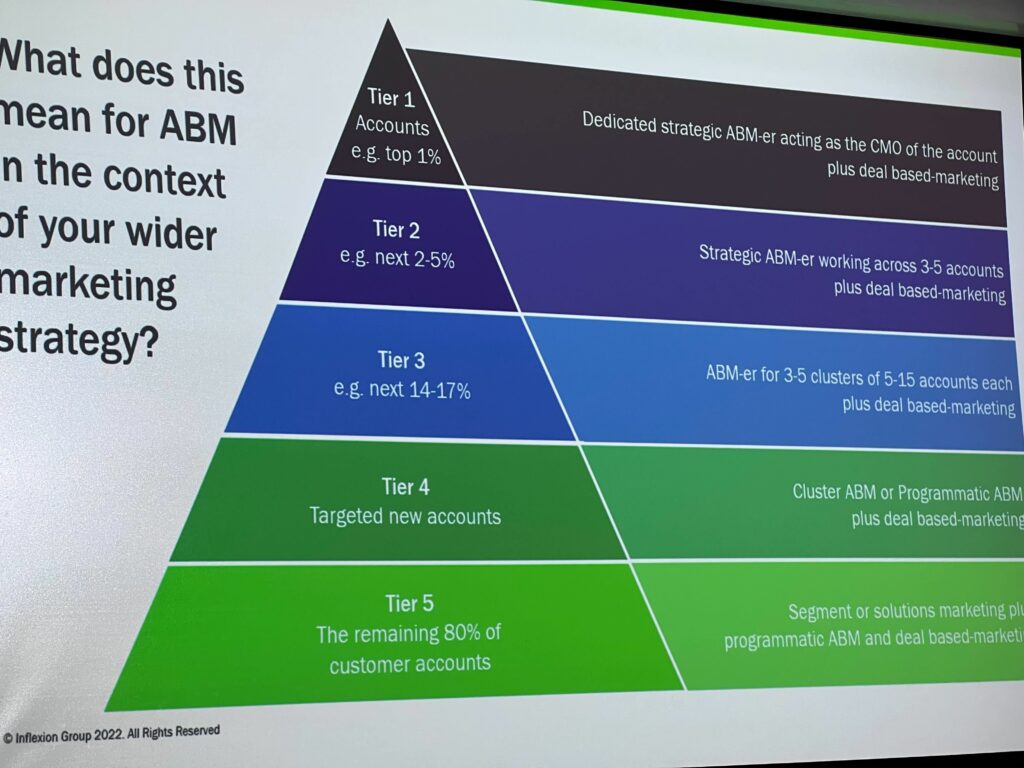 And build it out into the customer lifecycle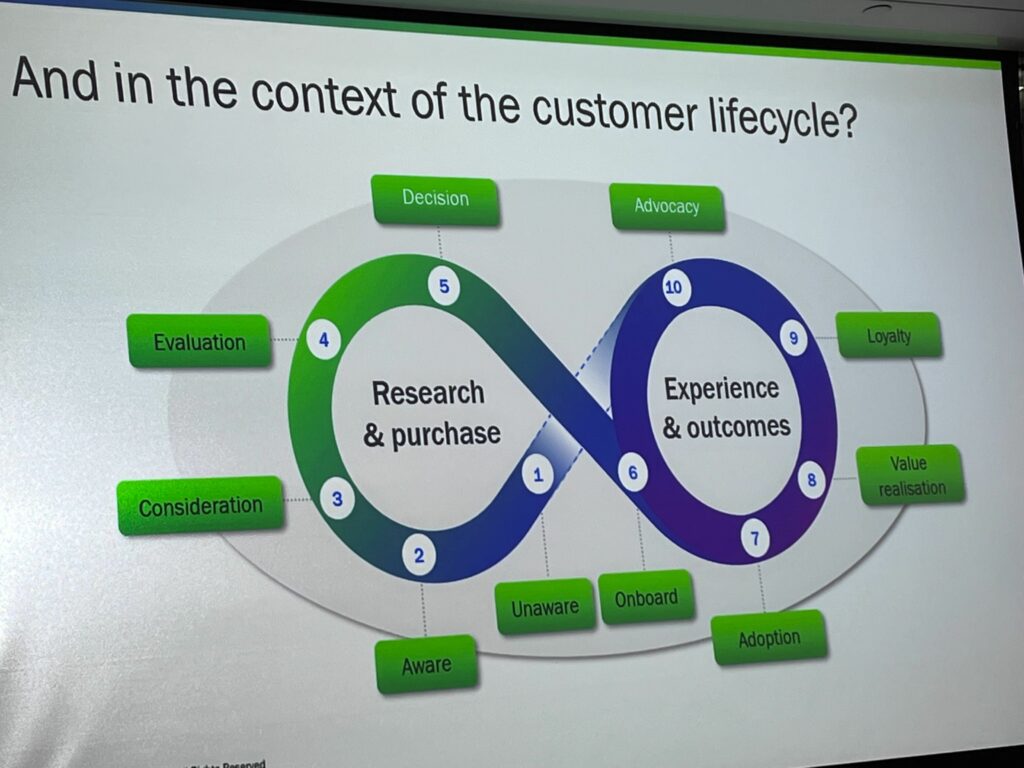 So to the framework – Start on internal alignment and think about leadership, culture and being agile enough to respond to the needs of your most important accounts. (It's clear that most do not do very well in the area of having a single view of the customer, so this means they don't have the right data that they can respond to) then move to external engagement – and the key thing here is to understand what customers expect of a strategic partner, and get focused on that. ABM is part of the solution but isn't the magic bullet.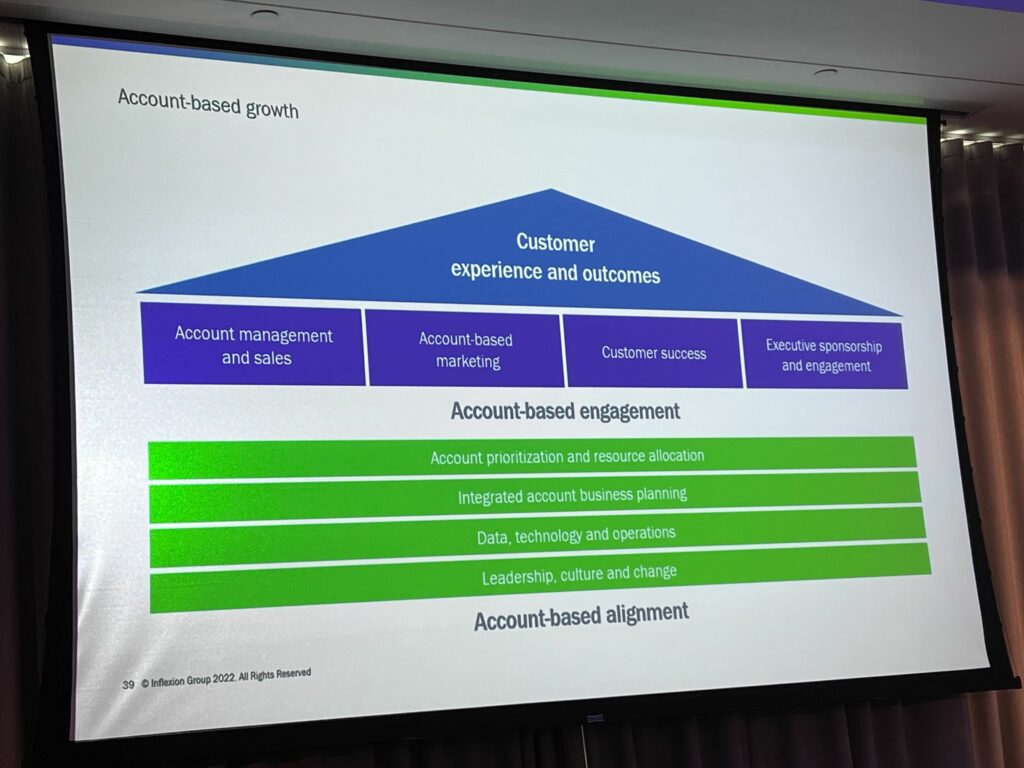 I can highly recommend Bev's new book: Account-Based Growth: Unlocking Sustainable Value Through Extraordinary Customer Focus.
A really insightful session was The State of ABM in 2022 lead by Joel Harrison, editor-in-chief, B2B Marketing, supported by Robert Norum, Growth Hive Expert, Propolis;Stefano Lacono, marketing director, Europe, 6sense; and Dorothea Gosling, senior consultant, Inflexion Group
The core of this session was around a B2B Marketing survey and it does show there is some confusion as to what ABM really is and why it should be used and where.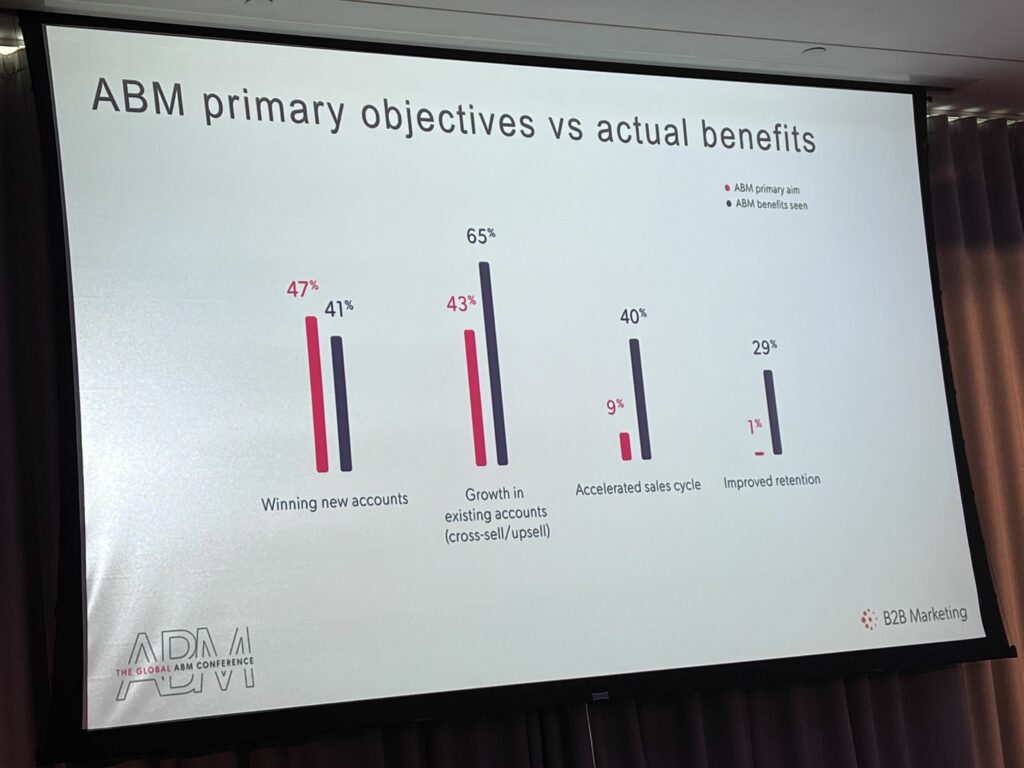 The data shows people are getting better results from growth in existing accounts, but more believe the primary aim should be new business. Mostly shows that people want to use ABM for new business but maybe its easier to have an impact on existing business.
There also is a bit of a reality gap, where people dont want to spend more, but expect to achieve more. Maybe marketeers are just perma optimists? I know I am.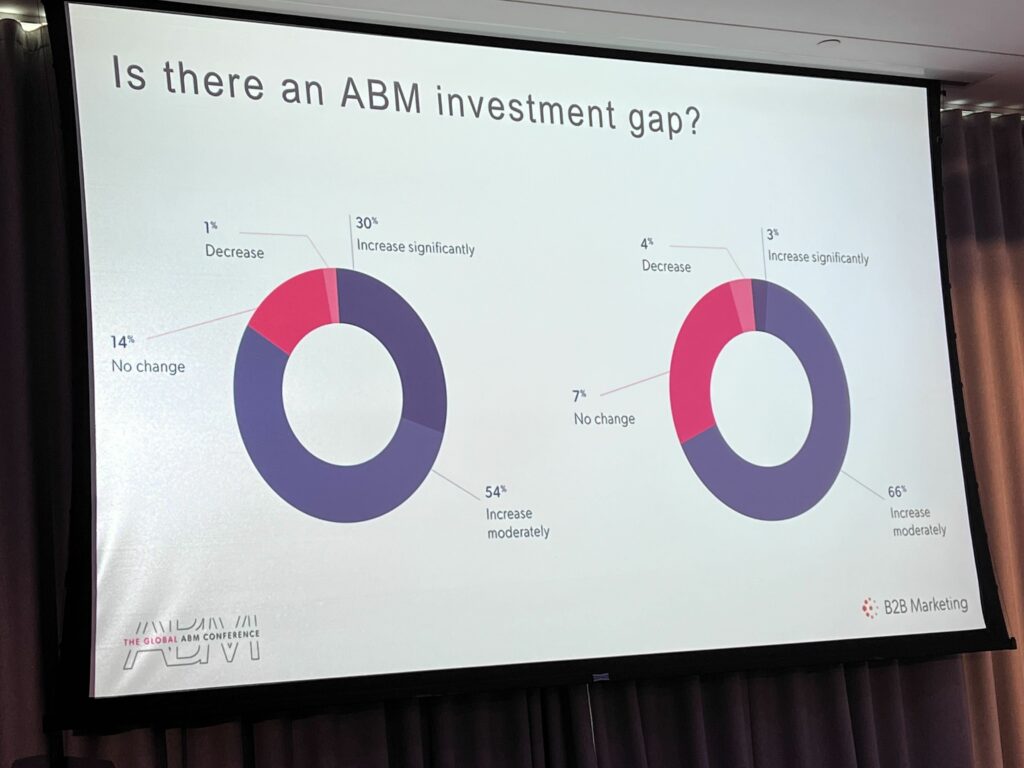 Also – most ABM stacks are immature. Over 60% are either considering, or preparing to implement ABM, with only 4% perfecting what they have – and most tech deployed is the fundamental stuff like a CRM and Marketing Automation platform.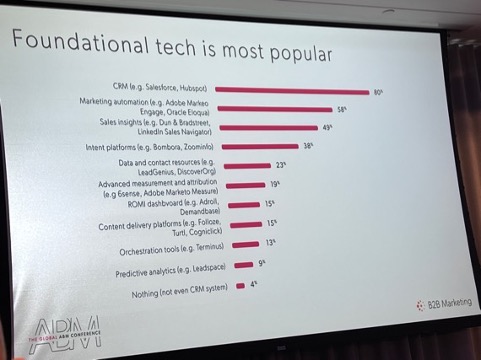 If you look deeper at what's deployed its very much lead gen and sales tech. It's personally surprising that content delivery is so low in comparison.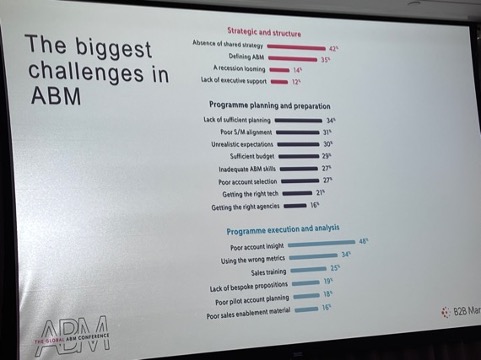 So what are the biggest challenges that people face in ABM?
The real standout is poor account insight and the absence of a shared strategy. The obvious issue of course being there isn't one strategy. Every business will be different – from a large enterprise account billing £1m a year to a smaller tech company with an average deal value of £50k – the ABM strategy will be very different. But its vital to define your strategy and goals, and be clear on how ABM can contribute to them before you start to look at the amazing shiny tools you can use.
We also need to take into consideration the market we are operating in, so the ABM in a downturn: How to use account intelligence to do more with less session from Jon Miller, chief marketing officer, Demandbase, was very well timed.
Jon really wanted to give people some practical tips and as one of the original founders of Marketo, he has been on the most incredible martech journey (including founding Engagio, which was purchased and integrated into DemandBase).
Jon starts – "A long time ago the big dinosaurs ruled the earth". This is a perfect analogy for now. The high-growth revenue companies have had their place – but covid came and the injection of the money greater leaned into the impact and inflation has hit now and is hitting hard.
So being smaller, more adaptable, and flexible will be critical to surviving this period. In the last major downturn, 9% of companies came out stronger – and the two common behaviors were that they found a way to reduce costs, but also found ways to prudently grow. So managing to do more with less.
We could work 'harder' but the feeling is that everyone is already pushed to the limits, so how can we work smarter?
In Jons's view, working smarter is all about how you use account intelligence.  Now, of course, a Turkey doesn't vote for Christmas, so maybe not surprising but it's very true that today so many marketers waste their budget on prospects that are just not in market. So focusing spend in the right place with limited budgets is 100% the best approach.
But how do you do this?
Well, it all starts with your first-party data: CRM, MA tools, Emails, Web visits, Impressions, Product usage etc. Step one is to bring this together and clean it.
Then we can work on augmenting that with third party data. Things like – Companies & contacts (size, industry, parent/child, name, title, role – to help find and score accounts, and identify and contact decision makers), Account identification (de-anonymise the web traffic – which needs IP and Cookies as more people work from home), technographics (what do they own, the installed technologies and predicted patterns – this often is the No1 attribute as people buy things in patterns) and intent data (track what content companies consume outside of your website – to find prospects based on signals).
So what was DemandBases secret sauce?
(1) Find the right accounts – Often too much time is spent researching which accounts to sell to, rather than actually selling. To solve this use intelligence and tier the accounts with effort based on opportunity. Jon suggests you start with the entitlements (i.e. Data, advertising, DM, offers, SDRs and triggered ie a new recruit then this happens) – ie what are you going to do, before how you want to do it with. This will help you define how many customer you can have in each tier, as it'll be based on resources. When selecting accounts its also important that sales have a strong say.
Here is the 'entitlements' that Demandbase use (you're welcome!)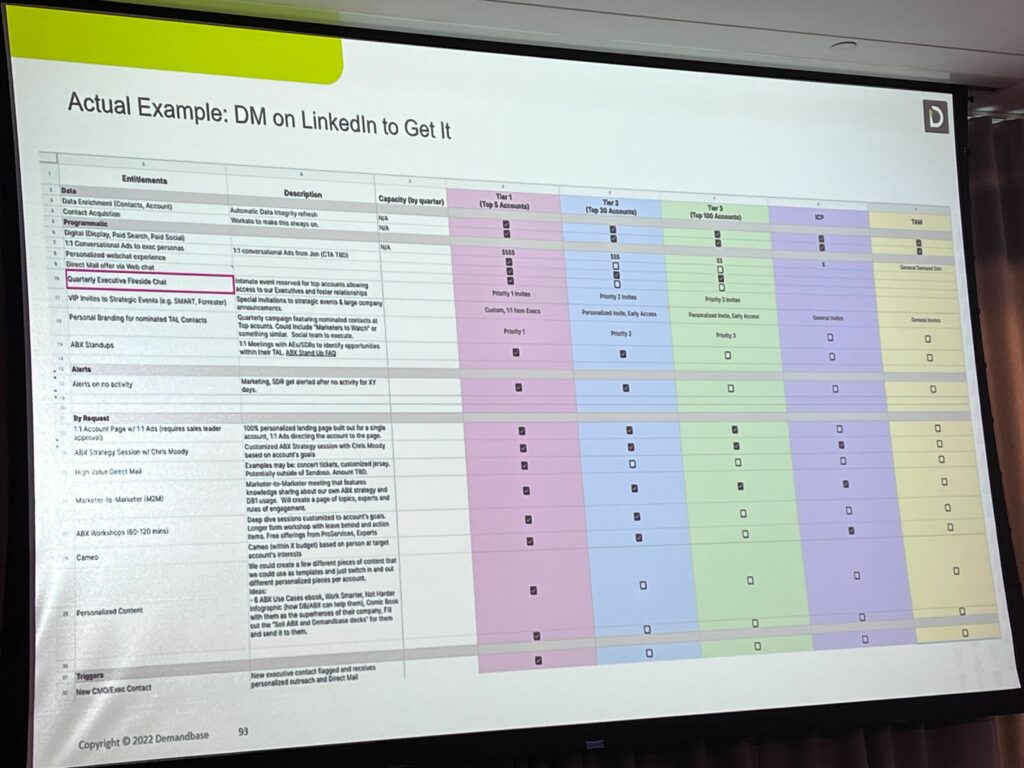 (2) Focus marketing investment on those that are in market. Jons's advice is to focus more on account-based advertising. So you need a DSP that can help identify accounts and optimise across accounts (so you can count how many impressions served into one account). With a consumer DSP, you'll get 'Super suckers' that pull in most of the revenue spend. It's also important to get the ads in front of the right people using (in a limited way title targeting) mainly intent-based bidding. So bid higher on the person showing more intent NOT those with the right title.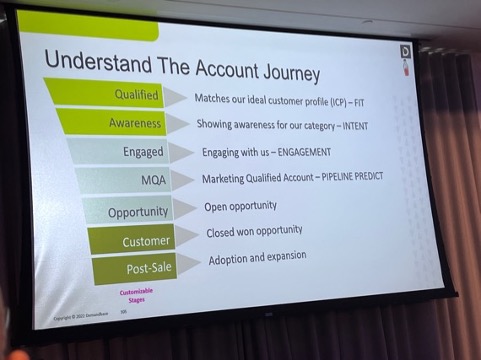 (3) Engage with intelligence. And DemandBase use the acronym FIRE. Fit, Intent, Relationship and Engagement. You can combine and use AI to predict which accounts should become an opportunity. Then understand the journey and align the GTM messaging and content with each stage. Here is the DemandBase campaign example.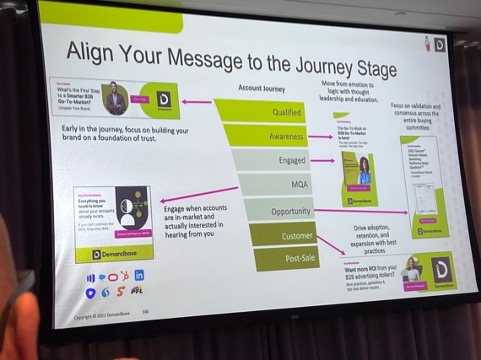 Lastly we need to not think of lead handoff as a relay race, but more like a football match. Jon also says (and I agree) we should throw away things like 'marketing sources pipeline' as a measurement and focus on the team winning. And I can also recommend Jons ebook that expands on all of this —> Demandbase.com/guide
Outside of the main keynotes there were some very clear and consistent tips and advice from other sessions and conversations. Here is a few I took note of.
Before you even think about being in market with a campaign
Get aligned: Get an ABM leadership alliance team set up (sales, marketing, finance), be a tester, not a cheerleader, agree the criteria and stages, with short, medium, and longer-term metrics, AND schedule regular check-ins.
Start from a solid base of clean, consolidated data is absolutely critical. Start by thinking about what you want to report on and then look at what data you have and can capture. Know what you want to achieve.
Be prepared that these systems are all owned typically by different teams. So bringing those together is very important.
The most important thing is your data and your customer journeys, before looking externally at third party data. So get your data and teams are aligned. Having a data team, a paid media team, a display and search team, an organic social team, and email team for example, will not set you up for orchestrated success.
Make sure you can identify what activations are generating opportunities as this will be important to generating cross-channel success.
When building your strategy
Understand where you are, what you know and set realistic goals
Get really clear about your message (and the different ones at each point and by role)
Build out the account experience at each stage (for example Awareness, Educate, Influence and Commit) – so be prepared to provide different content and experiences at each stage by persona.
When planning to execute a multichannel approach is very critical and very often this is executed in two streams, a One to Many approach (mostly programmatic ABM) and One to few (with social selling and targeted interactions).
Be prepared to get personal
It's clear that personalisation delivers engagement, but you need to be digitally mature, so a number will struggle to deliver this experience. The 52% that are digitally mature are achieving goals versus 15% of digital novices. So this shows that for ABM to be successful, you do need the right tools, or an agency that has the tools already (ahem).
Data also shows that buyers are doing their research early, and around 70% fully define their needs before raising they own hands.
There are also some major shifts – 27 average touch points prior to a sale, 43% increase in stakeholders and 80% are more likely to buy from companies offering a personalised experience
Just think about the success of Netflix. We're provided with a customised and personal experience, a different video cover image based on our behaviour and even before the content is finished, we're offered a new video that they think we'll enjoy. This keeps people 'binging' and in the platform and in a world of free content – people are paying for this experience.
You need great Creative that connects
95% of buyers are not in market at any one time. This creates a big challenge. If you have 20 accounts in your particular ABM data group – that means only 1 prospect is active – and how many companies are targeting that client? So you need to stand out (or greatly expand your audience which dilutes the whole approach in the first place).
Winning hearts and minds is tough – you have lots of barriers including time, budget, competition, attention, brand and regional variances to address.
So ask and internally answer some open questions

How big should be pool be
What channels drive success
How do roles, regions and verticals impact it
How do we stand out?
So putting this together how did OutSystems deliver an ABM experience across EMEA? (Like a mini-case study)
They started with a 2-day workshop with stakeholders from marketing, sales, channel, and agency. Making sure it's a co-owned challenge.
The plan was to win hearts and minds, using Technology + Insights + Creativity.
From an audience point of view, it was important to expand the footprint beyond the IT decision-maker, into the lines of business (usually the C-Level, the LOB DM's, the IT DMs and the user community) .
From a Data point of view, it was important to consider a data-driven planning, insightful contact-driven content, intelligent media execution, and more efficient prospecting using traditional scoring models and layering in intent.  But once in market being able to adapt based on regional, role, and behaviour impacts.
In the creative part. Their North Star is high-performance with low code. The campaign was 'Level Up' – a challenge to the audience as to what they can do in their role. So they put the persona at the heart of the creative.
With execution, like earlier examples, they focussed on starting with a 1:Many approach, driving into a 1:Few model.
In reality, the results are promising but they recognise its a journey. They are bringing more accounts into the funnel, but major hurdles include Marketing ops (from an alignment point on view), brand guidelines (flexibility), expanding the personas outside of the comfort zones (ITDM)  and internal education and enablement.
Top takeaways – be realistic, be bold, be accountable and remember its a partnership.
There was a brilliant closing keynote on The neuroscience of engagement by Carmen Simon, chief science officer, Corporate Visions – but this warrants a whole post on it's own, so I'll follow up with that shortly.
So lot's of key valuable learnings from the event but here are my quick takeaways and thoughts:
(1) Meet your customer where they are, with what they want to hear.
Whether you are on a 1:1, 1:Few or 1:Many ABM approach, you need to start with a real in-depth understanding of your prospects as people, not as a job title. We can help you understand your audience behaviour, mindset, content consumption and things like competitive brand SOV, to find and get to know your target customer.
Here is an example of a preparation report, but this quickly evolves into a live listening dashboard by account or group that's shared with sales.
We can also help you build internal buy-in, create ABM stages and customer journeys that suit your GTM and strategy (whether to find new logos or grow existing business)
(2) Make creative and experiences that connect
As a creative agency (the clue is in the title) we can help your brand stand out in the market and we can create content and messaging adapted to target ABM personas, tying the value of your solution to customer challenges. Whether online or offline, creating personalised content and experiences is critical to winning the hearts and minds of your prospects.
If you'd like to see some examples of our work, you can see some of that on our website or in this small deck.
And we also love video, so here is a video showreel too
(3) Make sure you're reaching the right people
We can get in front of your audience, where they are, and when they are, using a scalable combination of search, social and display advertising. All account and role-based, so no waste. We also monitor and map intent against readiness to buy, prioritise, then help you convert to MQA.
We believe in the natural cycle of your buyers, not a forced funnel approach, so a typical campaign could look something like this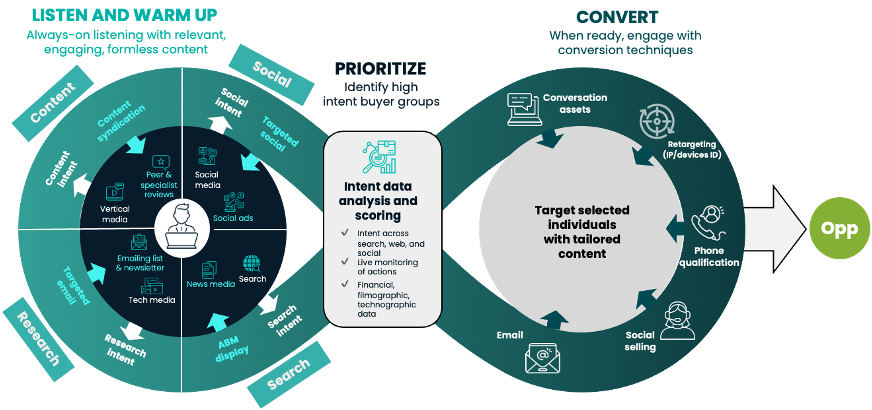 (4) Have a compelling offer
One of the obvious things missed by the speakers at the event is what we believe is the single biggest issue in marketing today, and that is at some point you need to present a form, and at that point, there is a very obvious value exchange. Is your asset worth my time and data?
Well, we've built a blockchain-based system that rewards attention not with money, but with a good. Whether it's carbon removal, taking plastic from the ocean, or planting trees, we've proven that an offer for good is self-funding through the reduction in lead acquisition costs.
Here is a short video from our CEO from our recent partner launch explaining the proposition.
(5) Make sure no leads are left behind!
You will generate a lot of signals, and early-stage prospects, so it's important to be prepared to follow up on a new kind of 'lead'. Very often these get left behind as sales don't see them as 'qualified enough', so we can help you follow up on intent data and MQAs to further develop opportunities and turn digital leads into human-developed and BANT /PACTT qualified opportunities before being passed to sales.
So in summary, ABM is not easy, and it's certainly not a magic bullet, but with the right Agency partner, you can start to transition to a zero-waste marketing approach where you focus your time, effort and resources on those prospects that are more likely to buy.
And with marketing budgets under pressure, but growth targets to achieve, we believe this is the smart way to try to achieve the dream of getting more, with less.
(And by the way, we're also happy to be paid on performance, so we'll get in the trenches with you)
Get in touch with Creation Agency