How to Choose the Right Account Based Marketing Agency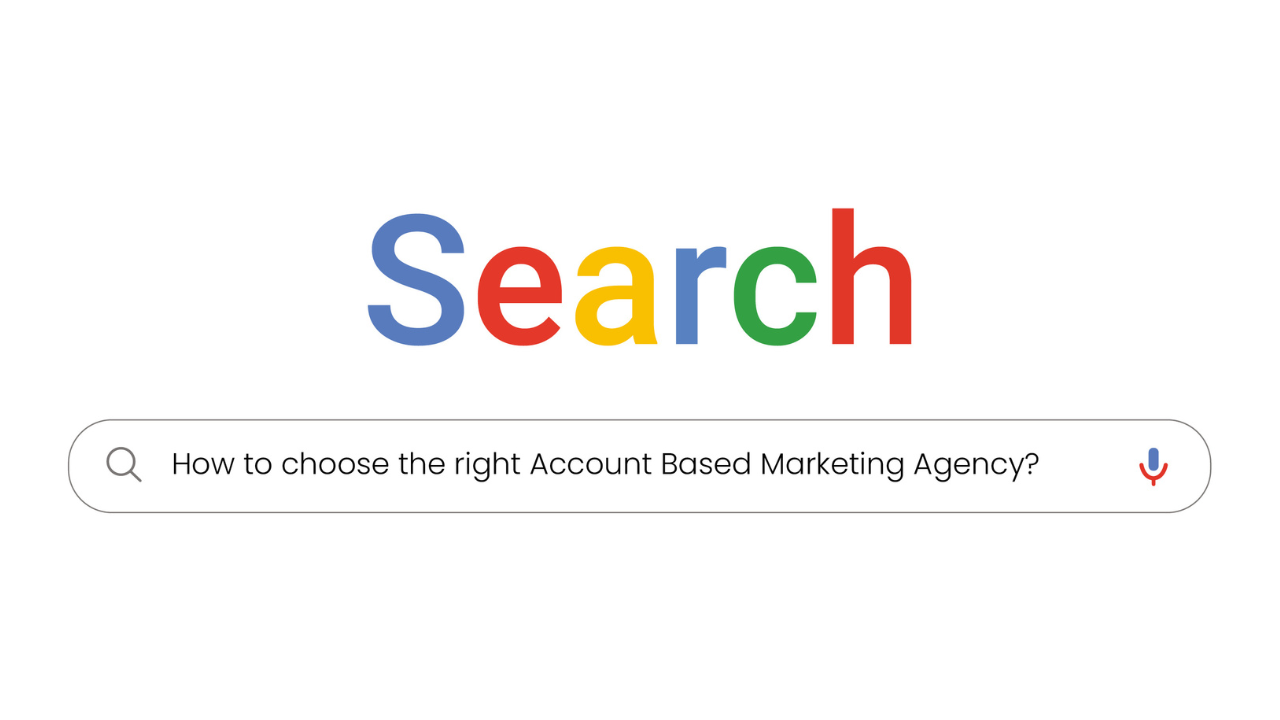 When it comes to choosing an account-based marketing agency (ABM Agency), it can be difficult to know where to start.
What should you look for? How do you know if an agency is a right fit for your business?
In this article, we will discuss some of the key factors you should consider when making your decision. ABM has become a popular way to market to large enterprise companies, and there are many agencies that offer these services. So how do you choose the right one?
Contents
What is an ABM Agency and why should you use one?
An account-based marketing agency often focuses on working with clients to create custom campaigns targeting a list of specific accounts, usually large enterprise companies.
ABM agencies often have a team of experts who are experienced in B2B marketing and sales and help you with all of the integral pieces necessary for success in account-based marketing. 
This may include strategy, asset creation, B2B digital channels, tech stack integration, and data visualization. By outsourcing these services to experts, you free up your in-house team to focus on other areas while still having a chance at achieving your desired results.
What to look for when choosing an account-based marketing agency
The first step to finding the best ABM agency for you is ensuring that they are able and willing to collaborate with your internal team. This way, they can fill in any gaps where help may be needed and advise on areas of expertise. By working together, you will be sure to create a campaign tailored specifically to your needs.
That aside, there are many other important factors to keep in mind, these include;
1 – Smart ABM Strategies
For B2B firms, an effective ABM strategy begins with a well-considered plan. The agency you consider choosing should ideally follow the 5 stages of developing a successful ABM strategy.
They should be able to define all personas in the purchasing committee, create a buyer's journey from awareness to evaluation, collaborate on the development of the most appropriate assets for each stage and collaborate on message consistency across all platforms and channels.
Last but not least, they should always be keeping track of accounts that interact with the campaign in order to push them down the funnel.
2 – Creation of Personalized Content
Successful account-based marketing comes down to a mix of producing quality personalized content and being very creative. To achieve a greater ROI, you need hyper-focused assets for each account, on every platform at each stage of the sales funnel.

This customized experience engages and pushes target accounts down the funnel. Think of creatives and assets that go above and beyond.
3 – Using The Right Channels
Unless your potential customers see the content created for them, ABM won't work.
When choosing an account-based marketing agency, keep this in mind. The agency you choose should use a mixture of channels to serve the personalized content. They should know where your target audience will reside from executing effective social listening.
4 – Advanced Tech Stack
For a successful ABM campaign, the account-based marketing agency should have a complete tech stack that consists of Company Matching technology, a CMS (Content Management System), a CRM (Customer Relationship Management), marketing automation and finally, a data analytics platform to provide accurate up-to-date campaign performance.
Company Matching technology:
An ABM agency that delivers quality results will often use company matching technology where they can identify the companies to target and serve ads directly to them via multiple channels.
At Creation, we have an advanced tech stack where we go one step further and target our client's high-potential companies via identifying their IP address. This enables us to ensure we serve the personalized ads directly to the target accounts, regardless of whether they're working in the company office or working remotely. We can even target them at an individual level, identifying specific people and serving tailored ads at a person-based advertising level.
Content Management System:
A content management system, such as WordPress, HubSpot, Magento, PHP, or any other CMS platform may be used to develop, edit, and publish B2B content. Our clients often prefer us to integrate with their website whether that's WordPress, HubSpot or a different CMS.
Customer Relationship Management:
The main goal of account-based marketing is to reach and interact with your target audience, which can be past, current, or potential customers. Often, an ABM agency may integrate with your CRM to gather the target accounts, unless shared directly.
Marketing Automation:
Marketing automation technologies and tools assist in automating multiple crucial parts of an ABM campaign. Depending on the agreement, the agency may help with setting up the automations. In this case, the agency may want to connect to your current solution. Whether that's Marketo, Act-On, Hubspot, or another marketing automation platform.
Data Analytics Platform:
The ABM agency that you choose should ideally be equipped with a data analytics platform that allows them to integrate, enhance, and transform all your data from marketing, sales and customer activity to create a single source of truth. It's vital to have accurate and complete data when running an account-based marketing campaign. At the end of the day, you need this data to make insights-driven decisions!
Using Creation as your ABM Agency for B2B campaigns
Using Creation Agency as your ABM Agency for B2B campaigns is a great option. We'll work your account list with our intent data and insights. We'll guide each contact through the funnel while identifying company-level buying groups and building out key account knowledge for nurture and close.
Because business decision-making is rarely down to one decision-maker, we expand into the buying group.
How do we do this? Rather than focusing on high lead-scoring individuals, we look at lower-scoring behaviour from the same target accounts. We then take a further look at the buyer intent insights, to provide an expanded view of your prospects.
Curious to see how we can help? Drop us a line and we'll be more than happy to share.
Get in touch with Creation Agency